Thank you for purchasing Paul Martens's book, The Motivated Life!
Today I'd like to provide you with 8 tips that can increase your productivity:
Tips 1-4: Reduce repetitive stress on your wrists and hands,
Tips 5-7: Relieve eye strain, and
Tips 8 and Bonus Tip 9: Optimize brain power.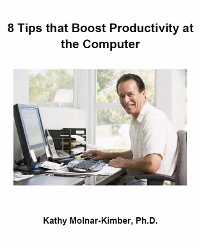 Just fill in the request to receive the "Writing Science and Medicine" Newsletter below and I'll rush you the special report.


Thanks and enjoy the special report!
Sincerely,
Kathy
Kathy Molnar-Kimber, Ph.D.
KMK-How-to-Write.com
KMK Consulting Services